The One on One schedule is announced via our Private Producer's Club Facebook group, and via email:
To book your session, log in to your URM Enhanced Account (https://members.urm.academy/) and select One on One Sessions from the menu: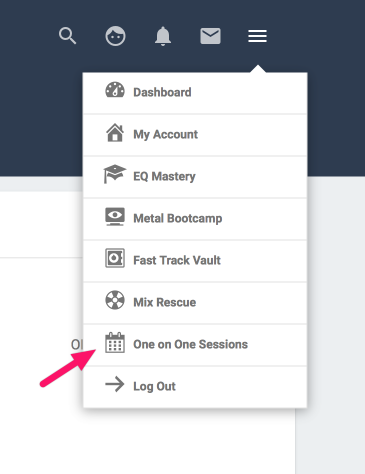 Standard sessions are 20 minutes via Skype session - by using the code you are forgoing the need to pay for the session so the initial $30 fee is waived at the end by entering the code. You are however given the option to select one of the many checkboxes that will ADD TIME to your session at a COST :
Then you select, with whom you would like the session with, depending on the person posting availability these options may have different availability under the sections. Our suggestion would be to use the "Any Available" option. You then will choose your time zone and a calendar will then appear for you to select the time. If you DO NOT see any time available that means they are all booked and you will have to wait for the next time availability is posted. We also ask that you are courteous to the other members and ONLY BOOK ONE SESSION per availability posting. This is to ensure that other users are able to use the service as well. They are posted at RANDOM on the Facebook group - this is also to keep it fair and not just have one particular timezone reap all the benefits.
In the above case, there are not available appointments at the moment, so I would need to wait for an availability posting. If you have any additional questions, please tap the "Submit Request" button in the top right of the page!